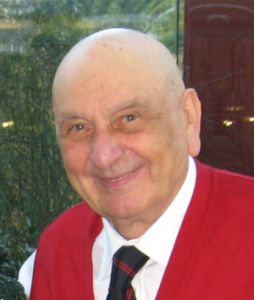 Born in Bari, August 11, 1927. Died in Rutigliano (BA), February 14, 2010.
Son of Michele Crudele and Teresa Romito.
Married Marta Barile on December 29, 1956. Children: Susanna, Michele e Luisa.
Laurea Degree in Literature at Bari University, November 17, 1950: summa cum laude; thesis on "Le specchie in terra d'Otranto".
Manager of the Reform Agency of Apulia, Lucania and Molise and of the Development Agency of Apulia.
Consultant, expert and manager of rural cooperation projects in developling countries, working for United Nations Agencies.
Journalist.
Proclaimed honorary "headman of the tribe" in Uganda for his work in that country.
Autobiography
Born in Bari in 1927 into a traditional large family, he loved his country and was proud to be a "son of Southern Italy". He always engaged in social action for the enfranchisement of his fellow citizens who were in a position of underdevelopment and inferiority to the Northern Italy.
He was called by Archbishop Nicodemo [of Bari and Canosa] and Bishop Mincuzzi [Auxiliary Bishop] to contribute to the first Pastoral Council and the Commission "Justitia et Pax" in Bari immediately after the Second Vatican Council. He was also, for some years, Secretary-elect of the Christian Union of Business Executives (UCID) of Puglia. He acted as a volunteer consultant, from the fifties to the seventies, to the "Farmers Union" of Bari and, as a national expert on agricultural cooperation, he was called by the Ministry of Agriculture to join the Working Group which met in Brussels in the years '67 and '68 for the preparation of the first programme of development of the European Economic Community, called the Mansholt Plan.
As visiting professor he taught agro-industrial cooperation for some years in the Royal Institute of Social Studies of The Hague in the Netherlands, in the Institute of the Italian Ministry of Overseas Affairs in Florence, and in the Mediterranean Institute of OECD in Valenzano Bari, and was also a professor of rural cooperation and development in schools and courses in rural cooperatives throughout Italy. As an agricultural expert in 1972 he was named a member of the private interdisciplinary Working Group formed at European level in Holland to prefigure the Europe of 2000. He anticipated that soon agriculture, understood as cultivation of the fields, and fishing, would be transformed into "geofarming", meaning cultivation not only of land but also all the water and even the air.
Along with Peppino Bartolo he promoted the creation and startup of the Friends of Germany Association and the Italo-German Chamber of Commerce at the German Consulate in Bari. Since February 1965 he joined the Southern Group "Meridionalisti", founded by Vittore Fiore to gather the diverse political and social expressions in defending the interests of Southern Italy.
As a Catholic he supported those actions of the Christian Democratic Party that were compatible with his ideas, but he always refused to subscribe to the Party, because he was not keen to play "power games". From 1953 to 1974 he was an executive director of the Reform Agency of Apulia, Lucania and Molise and later of the Development Agency of Apulia. Here, as Head of agro-industrial cooperation, he promoted among local farmers a broad movement based on cooperative wineries and oil mills. He was dismissed from this post with the awarding of an honorary post of Head of the General Secretary of the Agency (as a result of conflicts with its president when this one run for the first regional elections in Apulia: promoveatur ut amoveatur). He soon sensationally resigned and, giving up a stable job and the work for the development of his land, he joined the United Nations and its specialized agencies as an expert. He had already been used as a consultant to "Rural Social Welfare" by the European Social Affairs unit of the United Nations with missions in Poland, Eire, and Hungary. He was immediately sent by the FAO as a consultant in "group agriculture" in Morocco and Spain, and by the International Labor Organization (ILO), as an expert to Sri Lanka, Turkey and the Seychelles, and finally as a manager of rural development projects in Uganda and Equatorial Guinea.
He wrote many publications on agriculture and rural development in Europe, the United States and Israel, and was outside contributor to magazines in his area of expertise and co-worker of the Swiss mass-circulation "COOP" magazine. He was the National Award Winner in 1970 of "Articles on Agricultural Cooperation" of the Ministry of Agriculture in Rome and in 1974 he received a prize for articles on "Tourism and Antitourism" from the Italian-Swiss Albartour organization. He became a member of the the Order of Journalists of Bari in 1974.
Returning to Bari, as a new Cincinnatus, he devoted huimself to the care of his little garden, and all his family. He found time to contribute to the establishment and start-up of the Alumni Association of his liceum Q. Orazio Flacco in Bari, which he had attended for eight years. At high school he was a student-worker "avant la lettre", as he worked in '44 and '45 with the British Royal Navy as "Assistant Manager" in the "ship to shore" in Bari "HMS Fabius" [letter of appreciation]. After the four-year university course in Bari [with a degree in Literature] and language studies at the University of Bonn and business organization in Naples, he was hired by the Foreign Service of the United States of America as an Assistant to the U.S. consulate in Bari from 1951 to 1953.
In 1956 he married Professor Marta Barile who had been his co-president in high school trying to start a boys and girls Student Club. The professor of religion did not tolerate it and blocked the initiative. In the '40s it was unusual to think of male and female students together in a Club!
Tommaso Crudele leaves his wife, three sons and three grandaughters.
---
Known languages: Italian (mother tongue), English (excellent), Spanish (good), German (fair), French (reading and understanding), Turkish (reading and understanding).
Employments
Periodo
Luogo
Ente
Ruolo
1989 - 1990
Equatorial Guinea
ILO
Expert in rural co-operation
Feb 1983 - 1989
Kampala (Uganda)
ILO
Expert in rural co-operation
Mar 1979 - Dec 1982
Antakya and Ankara (Turkey)
ILO
Expert in co-operative management and education
1979 - 1980
Mahe (Seychelles)
ILO
Expert in co-operative development and education
Aug 1977
Bangkok (Thailand)
ILO
Expert in rural cooperation
Mar 1975 - Sep 1977
Colombo (Sri Lanka)
ILO
Expert in co-operative management consultancy services
Oct - Nov 1972
Warsaw (Polonia)
Nazioni Unite
General rapporteur, seminar on regional development and co-operatives
1972
Bari (Italy)
Cassa per il Mezzogiorno

Expert in rural planning and development in a working group for a regional development plan

1971 - 1972
Madrid (Spain)
FAO
Expert in collective farming and agricultural co-operatives
1969 - 1971
Bari (Italy)
Centro Studi Comunità Europea
Visiting professor, expert in rural development and co-operatives
1968 - 1979
Italy
Scuole e Istituti per l'educazione cooperativa

Visiting professor, expert in rural development and co-operatives

1968 - 1970
The Hague (Holland)
Institute of Social Studies
Visiting professor, expert in rural social welfare and co-operatives
1968 - 1970
Bari (Italy)
OCDE Istituto di studi avanzati
Visiting professor, expert in rural social welfare and co-operatives
1966 - 1967
Bruxelles (Belgium)
Ministero dell'agricoltura
Expert in rural co-operation for the Mansholt Plan of the European Community
Feb 1966
Rabat (Morocco)
FAO

Consultant in rural development for the Sebou project

Aug 1965
Limerick (Eire)
Ufficio europeo delle Nazioni Unite
Expert in rural social welfare
May 1965
Warsaw (Polonia)
AAI

Expert in rural reform and co-operation

1953 - 1980
Bari (Italy)

Ente Riforma di Puglia, Lucania e Molise.
Ente Sviluppo di Puglia

Director of the co-operative, rural development and small industries departments.
Secretary general

1951 - 1953
Bari (Italy)
Foreign Service of the United States of America
Assistant to the U.S. Consul General in Bari
Nov 1944 - Dec 1945
Bari (Italy)
British Royal Navy
Assistant manager H.M.S. Fabius
Jul 1942 - Dec 1944
Bari (Italy)
Comune di Bari
Ration books office
Some of his writings, available in Italian libraries (full listing from OPAC SBN)
L' Ungheria e l'agricoltura di gruppo / di Tommaso Crudele Roma : [s.n.], 1970
Agricoltura di gruppo : mito e realta in Polonia / di Tommaso Crudele Roma : [s.n.], [1970?]
Agricoltura di gruppo in Spagna : esperienze di coltivazione associata e gestione plurifamiliare di piccole e medie aziende / di Tommaso Crudele Evaluacion de la accion del Iryda en apoyo de las agrupaciones para la explotacion en comun de la tierra / [Tommaso Crudele] Madrid : [Ministerio de Agricultura, Instituto Nacional de Reforma y Desarrollo Agrario], 1974. Also available in the Library of Congress
Esperienze di agricoltura di gruppo / di Tommaso Crudele Roma : s.n., 1974
3. Giornata della vite e del vino, 29 aprile 1968 sul tema: La *cooperazione nel settore vitivinicolo pugliese / relazione [di] Tommaso Crudele Foggia : Stamperia Multilith, 1968
Gli studenti in coperative : una antica e significativa esperienza europea / di Tommaso Crudele Roma : [s.n.], 1973